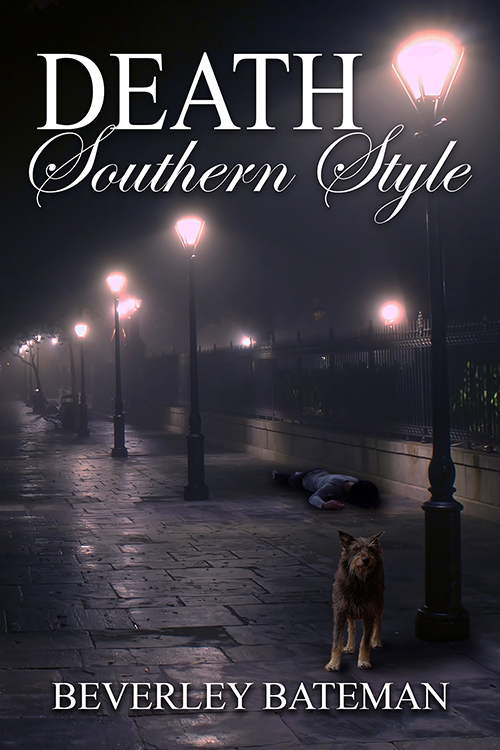 Born and raised in New Orleans Julie Ann Dupré senses things other people don't. She's living in New York when she's told her mother has been killed in an attempted robbery, which is odd because Perrine didn't have anything valuable to steal. Julie Ann comes home to find the truth and discovers there's a family secret, hidden for years. She searches to find the real reason for her mother's death. Now someone is trying to kill her. Will her psychic senses, a little dog and a detective keep her safe?
Detective Connor O'Reilly, a native of New Orleans and comes from a family of police. He's an honest cop but realizes there is corruption in the division. He meets Julie Ann at her mother's house and is immediately attracted to her. After telling her about the attempted robbery he checks into the case and finds no one is investigating the death. Julie Ann deserves the truth and he wants to know what really happened. He starts a thorough investigation. He's warned off the case and then he receives a death threat.
Julie Ann and Connor work together to unravel the real reason behind Perrine Dupré's murder, Julie Ann's mysterious past, and why people want her dead, while developing their challenging relationship. Can they both survive? And what about their relationship?
Excerpt
Death Southern Style Excerpt 2
After Julie paid the taxis she stood on the street and stared at the small sign tacked over the door of the old wooden house, Chez Voodoo.
She sauntered out into the courtyard. It was empty. She turned to her left and stepped through the next door into the church.
A tall black woman wearing a long white dress with a white apron and a white scarf tied around her head, turned around when Julie Ann entered the room.
"Julie Ann Dupré, child, welcome. I'm sorry I wasn't out front to welcome you."
She hurried across and wrapped her arms around Julie Ann. "I am so sorry to hear about your mother."
"Thank you." Julie Ann returned the hug and felt the energy flow from Priestess Ava. She soaked it in before she finally pulled back. "That's what I wanted to talk to you about."
"Your mother's death? Of course, although I'm not sure how I can help. Shall we go and sit in the courtyard?"
"That would be nice." Julie murmured.
She liked it out there. Riots of red, orange, yellow, purple and coral colors filled the flower beds, attracting butterflies, birds and bees. Street noises never entered the area. It was an area of serenity and peace. And it always felt cool, despite the temperature.
"Do you think Perrine's death was voodoo related?"
"Goodness no, I don't think so. Why would it be?"
"I don't know. I'm trying to figure it out, make some sense of it. So far, I have few pieces, but nothing fits. The police say it was a robbery gone bad, but there's nothing missing. And I had a vision. She knew she was about to die. She didn't enter the house but ran away. She was shot her three times, in the back."
"You saw this?"
"Yes, but it doesn't make sense. I'm trying to come up with other possible motives. I know a lot of people feel threatened when you mention voodoo."
"True, but I don't think Perrine would have been killed because of it. There are a lot of people in the Quarter that belong to the voodoo church. Besides, why would they target your mother? Why not me? I'm the High Priestess now."
"It was a thought. Also, I found this in my hotel room this morning." Julie Ann handed the voodoo doll to Ava.
Ava regarded it carefully before she touched it.
"This was in your hotel room?"
Julie Ann nodded.
"How did it get there?"
"I don't know. The door and the window were both locked. When I touched it, I could see a group, not one person, but several and all very blurry."
"I see. This is a voodoo doll, but not one of mine. Someone could have bought it from any of the local shops. It's one made for tourists and then they added the blood. It's a warning and meant to scare you."
"It does scare me. I guess if I left all this alone, accepted the police report and went back to New York maybe I'd be safe. But I might not be safe there either."
"Have you made any plans for the funeral yet?"
"No, I haven't talked to her friends yet. Savannah mentioned Charlie wants to do it up in style and have an old-fashioned funeral with a band and a parade from the church to the cemetery."
"That sounds wonderful. Perrine deserves it and the neighborhood will get a chance to mourn her in style. Good for Charlie."
"I need to talk to him. Would you speak?"
"I'd be honored. Let me know when and where. Now I'm going to give you a special packet of mine. I want you to keep it on you at all times. It is to protect you against unknown threats and danger."
"Why? Do you think I need it?"
"I don't know, but if you're staying in New Orleans and looking into Perrine's death it won't hurt to make sure you have a little extra protection." Ava slipped into the church and came back a few minutes later with a small ball wrapped in cotton muslin tied tightly at the top.
She held it over Julie Ann's palm and mumbled a few words before she handed it to her. "Now put it in your pocket and keep it there. Keep it on you at all times, day or night. Promise me."
"I will." Julie Ann obeyed and stuffed it in her pocket. "Thanks, Ava. I don't know that I need any protection, but I'll be careful."
"Perrine didn't think she needed protection either. I wish I'd given her something to protect her when she was here."
"Okay, okay. I'm convinced. It stays with me at all times. Thank you."
"You take care now." Ava gave Julie Ann a hug.
"I will. I promise." Julie Ann smiled and headed back out the way she came in.
Ava stood and watched her go.
Maybe I should have made the potion stronger. There's an aura around her that says she's going to have to face some life-threatening challenges.