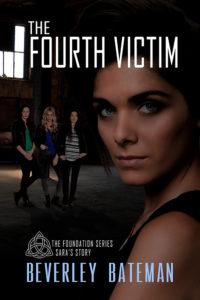 As usual, I'm running behind. I think my clock/calendar perpetually runs about a week late. We've been traveling, and I didn't have Wi-Fi. That's my story and I'm sticking to it. And it's been a busy month so far. 
November 1st My latest novel, The Fourth Victim Sara's Story, the first in The Foundation series, was released as an eBook on all the usual sites.  Check out Works by Beverley – Suspense for the info and buy links. 
November 2nd I was a guest on Linda Carrol-Bradd's blog site at http://blog.lindacarroll-bradd.com/ . It's still up if you want to check it out.
November 7th I was a guest on Delilah Devlin's' blog at https://www.delilahdevlin.com/blog/ .
November 8th I'm a guest on Leslie Sartor's blog https://anindieadventure.blogspot.com/2018/11/author-spotlight-featuring-beverley.html
November 13th I'm a guest on Constance Bretes Blog https://www.constancebretes.com/connies-blog
November 21st – I'm hoping to release The Fourth victim Sara's Story in paperback
November 23rdth I'm a guest on Seelie Kay's blog at http://seeliekay.blogspot.com/
             I'm also a guest on Sha Renee's blog site at https://sharenee.com/blog/
And follow my blogs, guests and group blogs by checking my blog page. 
I'm also doing NaNo this month, although I'm way behind so far. I'm working on Escape. The fourth book, Gabe's Story, in the Hawkins' Ranch series. If you're doing NaNo, I'd love to be a friend. 
I think that's it for now. I need to get some writing done.