It's December and I send out my newsletter this month. I've included a short Christmas story and a recipe in it. Different from the ones I'm putting on my website. If you'd like to check them out sign up for my newsletter. Go to my website https://www.beverleybateman.com/. Check the headings and click on more. Click on Newsletter Signup in the drop down box and sign up. 
HoHoHo! Can you believe it's December and we're almost through 2020? It's been a year like no other. Covid completely disrupted everyone's life and routine, schools, jobs, and businesses. It changed our eating and exercising habits. sIt changed how we shop and how we celebrate. At least it was supposed to, to save lives. It also introduced a new fashion statement – masks. I have several in different colors and one with dog paws on it. Like most people I don't enjoy wearing them because it makes breathing difficult and talking to each other a little challenging, but it saves lives. And even with a vaccine they say we'll still need to wear them. The one plus is the regular flu cases are way down. And it did bring a lot of families closer as they biked, played games and walked together. 
Writers and authors have been affected by having their children at home, having to work from home and maybe doing less actual in person research. Or like me, suffering Covid brain – sitting at the computer and staring at and my muse isn't there. Off social distancing, I guess. I've also watched a lot more TV. I signed up for NaNo but I'm only going to end up with half a book. I know there are lessons to be learned and I hope some of it makes society better. 
The doctors and scientists have learned more about Covid and a vaccine is on the horizon. Welcome 2021! 
Hopefully life will slowly return a new normal. My muse will return, even if maintaining social distancing and I'll finish Lydia's Story.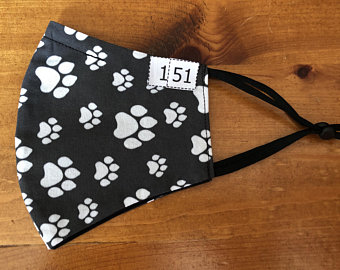 THE CHRISTMAS RISK
Dr. Allie Parsons clutched the steering wheel and stared out into the blinding Montana whiteness. Heavy snow swirled around the SUV. The road had disappeared. Barely moving, Allie had no idea where she was driving. She'd never seen anything like it, certainly not in New York.
A storm warning had been issued that morning, but she'd been determined to make the home visits after clinic. The city girl hadn't realized what a storm warning in this country meant. She did now.
Luke had ordered her not to go. Allie didn't respond well to orders, and they'd had a discussion. Allie inched through the wall of whiteness and remembered her response. She needed to get that attitude under control.  Her response to his order had been, "I'll do whatever I want. You're not going to order me around. I will make the home visits."
"Stupid woman," he mumbled. He strode out of the house. The door slammed behind him.
She had no idea where he'd gone. He'd wanted to do the visits, but he had a previous appointment. Surely, he wouldn't hold this against her permanently. She would have to apologize when she got back - if she got back safely. Hopefully, he'd be there. After her last disastrous relationship, she had trouble with trust, but she really loved Luke. She just had problems with commitment.
Tomorrow was Christmas Eve. She didn't plan on making any more visits for at least three or four days. And if Luke wanted to do the visits in storms from now on, she was more than willing to let him. This was his country. He'd been practicing here for years and knew the country, the area and the patients. She didn't. She'd learned her lesson.
"Whoa." She clung to the steering wheel as the vehicle plunged into a snowdrift. She shifted into reverse. The tires spun briefly and caught. Luck was with her. She back on something more solid.
What if she got stuck? She didn't even have a shovel. How long would the heater work? Was she willing to risk her life in a Montana blizzard, and if she was willing to take that risk, why wasn't she willing to take a risk on the man she loved?
The snow continued to swirl around the vehicle. The small gifts wrapped and decorated in Christmas paper, piled up on the passenger's seat, shifted and a few moved closer to the edge of the seat. Her patients had pushed them on her with wishes of a Merry Christmas. She knew they were all homemade, and it caused warm, fuzzy feelings inside. People here welcomed you and really cared about their neighbors. One gift would be Annie's homemade herb tea. Mrs. Maclean would have shared a jar of her crabapple jelly. And elderly Mrs. Jones knitted woolen slippers. Allie smiled. This didn't happen in New York.
The wind whistled around the outside of her SUV, sending chilly whirls down her spine, even though the heater blasted warm air into the cab. She checked her GPS. It said she was half a mile from home. She took a couple of deep breaths as she inched her way straight ahead. She`d made it back.
Her GPS told her to turn right, into the driveway. There were no lights visible. Luke wasn't home yet. He must be really angry with her. She didn't blame him. Hopefully he would be back soon.
It had hit her on the way home. Loving Luke was a much better risk than the winter storm. He'd asked her to marry him. She said she needed more time. It wasn`t that she didn`t love him, but did she want to live in this desolate country? Could she leave her parents? She missed them, especially at Christmas.
Life was a risk. She'd realized that today as she drove through a storm, not sure she'd make it home. Some risks were worth taking. She loved Luke. She wanted to be with him, and that risk seemed a lot less than the risk of losing him and a life together.
Had he gone to his parents? A cloud of darkness draped itself over her.
Last year at this time she was going through treatment for breast cancer. Another risk. They'd found a small lump during her routine examination. Her fiancé at the time, a doctor specializing in dermatology, had bailed because he couldn't cope.
Sorry, darling, but I'm just not cut out for this. Good luck with the treatment. e's gone off and not told her where he was going. S
She thought back to last year.
Her friends had backed off because many of them had been friends with both her and her fiancé. So last Christmas had been spent without her fiancé, without many of the people she'd considered friends, and going through surgery. Thank heavens for her family. Her parents had been there for her every minute of the journey. Christmas had been somber but filled with love. She missed not being with them this year, but she had Luke. Didn't she?
The SUV slid down the driveway; at least, she guessed it was the driveway.  The snow was so deep, it was hard to tell, but she brought her vehicle to a halt in front of the house.  Stepping out into foot-deep snow, she plunged around the truck to open the passenger door. She grabbed her medical bag and dropped her small gifts inside it. Then she fought her way through the wind and snow to the front door, the snow drifting over the tops of her boots.
She hesitated. It would be cold, dark, and lonely inside. Hopefully, Luke would come home soon.
She shoved her key into the lock and opened the door.
It was warmer than she expected, but very quiet. She dropped her bag on the bench inside the door and flicked on the lights.
"Surprise!"
Luke moved quickly to her side and wrapped his arms around her, planting a kiss on her partially open mouth. "Thank heavens you're home and safe. I was so worried."
"Thanks for worrying. I won't do that again. I promise. I love you."
Luke's eyes widened. "I love you, too."
"Merry Christmas, dear," a middle-aged woman hurried across the floor to hug Allie.
"Mom? Dad? What are you doing here?" Allie turned in Luke's arm as her parents enveloped her in a group hug.
"Luke asked us to come. He sent us the tickets and picked us up at the airport. He said it was a surprise. Was it a surprise?" Her mother asked.
"Totally, I still can't believe you're here." Allie hugged her parents back, kissing her father and then her mother. "I can't believe you're here, in Montana."
"Last year was a difficult time for you. One day about a month ago when I called, you weren't home. I talked to Luke. He said you were doing well, but you missed us. We missed you, too. We wanted to be with you for a happier Christmas this year."
"Family's important," Luke said. 
Allie smiled at him. "But not everyone believes that or supports a person no matter what."
Her mother grinned. "I couldn't believe this man. We'd never met. That was the first time I'd talked to him, and he went ahead and arranged everything. He even picked us up in Bozeman."
"It wasn't a big deal." Luke shrugged.
"Yes, it was, and it's the best gift you could have given me." Allie smiled up at Luke, her eyes glistened, holding back tears. "And Luke was right. I am doing great, and they say I'm clear of cancer."
"That's wonderful, dear. You look glowing. Is it the weather or the man?"
Allie felt the heat race to her cheeks. She glanced over their shoulders at the man she'd fallen in love with, a man who didn't panic when the word cancer was mentioned, and a man who brought her parents for a visit.
"Well… Luke was right. To make this Christmas perfect, I needed my parents here, plus the man I love. When I was out in this storm, I realized that some risks in life aren't worth taking, like a Montana snowstorm. Other risks, like love, are worth it."
"Really?" Luke had a huge smile on his face. "Since you seem to be receptive to taking a risk, this might be my chance. Alexandra Parsons, will you take a risk and marry me?"
He pulled a ring box from a pocket and opened it. "I can go down one knee if it would help?"
Her parents stepped back, grinning from ear to ear.
"You kept the ring in your pocket?"
"Darling, I wasn't taking any chances. If you ever said yes, I wanted to be able to put the ring on your finger right away."
Allie laughed. "Then, yes."
"Yes?"  He grabbed a hand and slid the ring on her finger. "I love you so much, and we can get married right away, while your parents are here."
"Yes, Luke Hawkins, I will marry you, whenever you want." She threw herself back into his arms, then pulled his head down and kissed him, checking the ring on her finger over his shoulder. She would be Mrs. Luke Hawkins soon. It felt so right.
Her parents laughed and hugged each other.
Allie had never been happier. She glanced out the window. The snow had stopped. A glistening white blanket covered the yard, shining like diamonds. In the big sky, stars added a magical glow.
With a loving family and a man who loved her, there was no risk. This was best Christmas ever.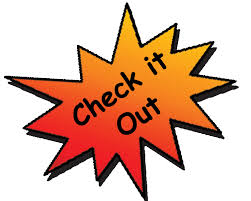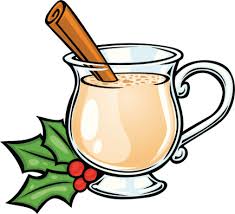 Homemade Eggnog (8-10 Servings)
4 tbsps (60 ml) + 2 (30 ml)tbsps sugar   2 cups (500 ml) whipping cream
6 eggs separated                                   6 cups (1500 ml) milk
½ cup (125 ml) brandy or rum                Fresh grated nutmeg
Put 4 tbsps (60 ml) of sugar in a large bowl. Beat in egg yolks, one at a time, until mixture is thick and lemon colored. Beat in brandy.
Gradually beat whipping cream into egg yolk mixture. Then gradually beat in milk.
Put egg whites in a second bowl and beat until frothy. Gradually beat in the remaining two tbsps (30) ml sugar until stiff. Fold into milk mixture. Pour into glasses and sprinkle with nutmeg.