August 3rd, the first Monday on August is a Civic Holiday in some provinces and territories. It's not a statutory holiday although it is a day off for many employees. I don't know if there is a similar one in the US. So, enjoy the long weekend for you who get it. Although, with Covid so many are off work it may be irrelevant this year.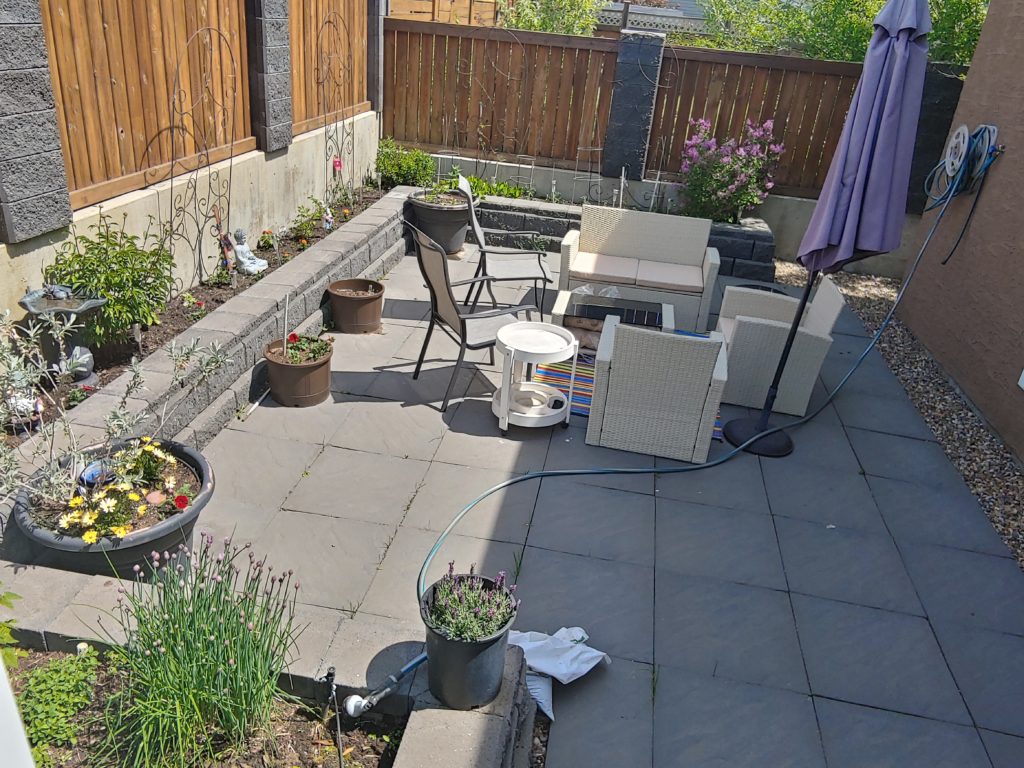 The corona virus is still with us. Areas are opening up but, in my area, very slowly. Elective surgery is open, barbers, hairdressers and nail technicians are open, Gyms and fitness centres are open but with limited numbers on site and restrictions. Nightclubs, entertainment, festivals and major events are still restricted. Masks are recommended but we have only had a total of 61 cases since the beginning. People talk about getting back to normal. I don't think we'll get back to what was normal. I think it's going to be a 'new' normal. As a writer I am adjusting, but not accomplishing what I should. My brain tends to be mush many days. I didn't realize how much socialization does to keep me stimulated. I stare at the TV and movies, answer and send emails and read.
I continue to stay at home most of the time, putter a little in my small yard and look after my rescue dog, Benji, whose fur is growing back. He has a sweet disposition. We're not doing so well at getting is weight down but I'm going to blame it on Covid. 😊
I hope everyone is coping and staying safe through this challenging time and celebrating all occasions sensibly. Have a safe, quiet and healthy summer.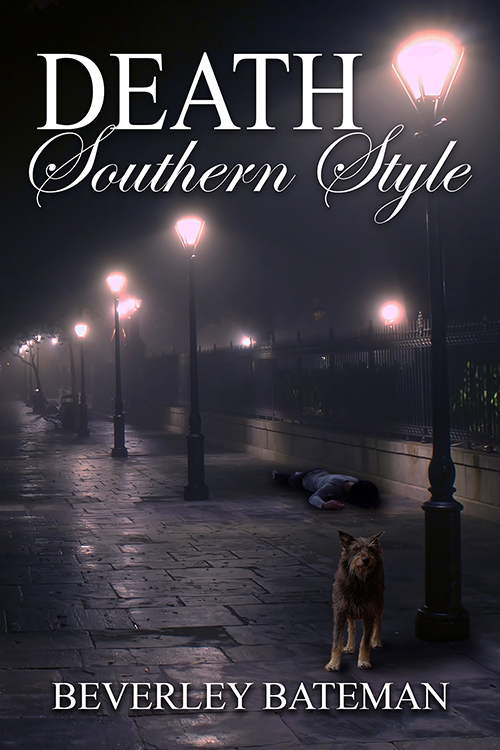 This month, Death Southern Style, both eBook and print, is up for sale. Here's the link to order.
https://www.amazon.com/Death-Southern-Style-Beverley-Bateman-ebook/dp/B089VRC1WR/
Here's another excerpt from Death Southern Style. 
The heat and humidity of a New Orleans day after a rainstorm blasted Julie Ann when she stepped through the Louis Armstrong New Orleans International airport doors to the taxi area. She'd forgotten how that combination could make it difficult to catch your breath in the south. It was a different humidity than New York.
A redcap flagged a cab for her and put her luggage in the trunk. She tipped him before she slid into the back seat. She gave her home address and sank into the cushions. She avoided any eye contact that could lead to conversation with the driver. She was too tired for trivial chitchat and she needed to prepare herself for the return to an empty house and the loss of her mother.
That sounded so dramatic but what it really was, was sad. The tears gathered and spilled over. She dug out a Kleenex and dabbed at them trickling down her cheeks. She tried to muffle the sobs.
The taxi weaved through moderate traffic. It was about a thirty-minute drive without construction and heavy traffic. Julie Ann stared out the window.
Crepe myrtle trees dotted the landscape. She'd forgotten the beautiful pink and white blossoms. The taxi passed Metairie Cemetery off to the left. It reminded her she would need to find a cemetery for her mother. Her mother's body – it sounded do strange to think that. Had her soul left her body? Was it still in the area? Would Julie Ann be able to sense it?
Shot? A robbery? Why? Whom? It was a good neighborhood. There would be a funeral to arrange. Hopefully some of the neighbors would help. They were all good people. A random act of violence? It happened. Were Savannah and Charlie still there? Of course, they were, and they'd be there to support her. Savannah and Perrine had been close.  She'd always known them as Savannah and Charlie, or Sweetness. What were their last names?
The thought of how her mother had died kept recurring over and over. Her parents had lived in the same house for thirty years. Perrine had been raised in that house on that street and so had Julie Ann. Everyone in the neighborhood knew Perrine. They also knew she had nothing to steal. If anyone wanted anything she had, she probably would have given it to them.  Maybe the person was looking for cash, but they would have been disappointed. Maybe that's why they shot her, because she didn't have anything.
Did her mother have a burial vault already? Hopefully she'd left some instructions somewhere. Mom had a lawyer when Julie Ann last visited. Who was it? She couldn't remember, but she'd need to talk to him or her. So many things to do.
Allison, her new partner, had said she'd take over Julie Ann's clients, but they might have to wait a little longer for service. She'd met Allison in Chicago. They'd hit it off and complemented each other's designs. Now if clients had to wait Julie Ann didn't worry about it. Allison would do her best. And if Julie Ann had to, she'd built the business once, she could do it again. Looking back, if she only hadn't worked so hard at building it, she might have come home more often so she and her mother could have spent more time together. Regrets overwhelmed her. That was time she'd never get back.
She would stay in New Orleans as long as it took to handle all her mother's affairs. And to find out what had really happened.
The taxi took the Vieux Carre exit off ramp and turned into the downtown area. It drove past old buildings locked and boarded.
Thirty minutes later he stopped in front of her home. Julie Ann didn't move.
The yellow crime scene tape across the front door of the pale blue house screamed that her mother wouldn't be opening the door. Someone had tacked a black wreath over top of the yellow tape.
"Ma'am, excuse me? Is this the correct address?" The driver turned his head toward her.
Julie Ann nodded. She reached over to open the door. Her feet felt like cement. She slid across the seat and out the door. She kept her eyes focused on the tape, unable to look away.
Julie Ann paid him and stood on the sidewalk, her luggage beside her where the driver had dropped them. She continued to stare at the house when the taxi pulled away.
She waited for her mother to throw open the door and run down the stairs to envelop her in an enormous hug. That's how it should have been. It wouldn't happen now. In her head, Julie Ann knew that, but she still waited.
Gradually she forced herself to face reality. She couldn't enter the house with all that yellow tape. And there was more tape across the gate and a few markers on the ground between in front of the house. Was that where her mother had been shot? If it was, she wasn't even in the house. Why would a burglar shoot her? It made less sense than the robbery as a motive.
She stared at the yellow tape. Now what?
That sheriff hadn't said anything about not being able to go into her house.
While she stood there, she could feel someone watching her.
She glanced around, but the street appeared empty. Was someone inside her house? It wasn't a threatening feeling. It felt more like someone was watching, like her mother, waiting for her to come inside.
She took a step toward the house. She'd told the police she would arrive today. How long were they going to keep that damn tape up?
 And where was she going to sleep tonight?
Anger replaced lethargy. Julie Ann grabbed her cell phone and punched in the number for the operator.
"How may I help y'all?"
"Could you please connect me to the French Quarter police station? Thank you." Julie Ann tapped the toe of her four-inch stiletto heel as she waited. She kept glancing around the neighborhood.
"Police station, how may I direct your call?"
"Sheriff Tozer, please."
"I'm sorry, ma'am, he's not in the office at the moment."
"Then please connect me to whoever is in charge of the Dupré case?"
"Sorry, which case?"
"The Dupré case - the woman who was murdered in her house yesterday."
"Oh yeah, the robbery vic. Hold on. Deputy Sheriff O'Reilly's on call. I don't know if he's in."
"If he's not, find me someone who is in. I want to get in the damn house." Julie Ann snapped
"Ma'am?"
"That robbery victim was my mother. It's my house and I want the damn tape removed so I can get into my own home. I'm standing out front in this damn heat right now. You find someone and get them over here ASAP to get that goddamn tape off my door or I'll take it down myself." Julie Ann clicked the phone off and dropped it in her purse.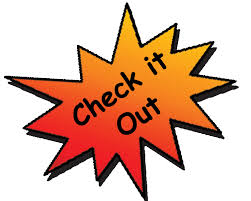 You can follow me and check out where I'll be this month – and some have giveaways:
August 1 on Eclectic Authors with Janet lane Walters https://wwweclecticwriter.blogspot.com/ 
August 7 - 31 Rafflecopter with give-aways. http://www.rafflecopter.com/rafl/display/e226730a61/? 
August 13 N.N. Light's Book Heaven Binge-Worthy Book Festival and enter for an Amazon gift card https://www.nnlightsbookheaven.com 
August 20th on Actually Alethea with Alethea Williams https://actuallyalethea.blogspot.com/
August 22 The Group blog 'To make a story seem and feel more realistic to the reader, what elements do you include in your stories?' on my blog at  https://beverleybateman.blogspot.com/ 
August 30 on Romance Lives Forever https://www.rlfblog.com/ 
I continue writing 100 words a day and report my word count to the '100 words a day' group. I'm working on The Foundation Lydia's Story, the second in the series, which I've mentioned before. It's slow slogging.
I'm still thinking about one or two ideas for a short novella. I'd like to do one on maybe, magic, psychics and fun things like that. And maybe a Covid romance. We've had a couple in my town that I blogged about. I'll talk more about that next month. Hopefully I might even have it started.
And you can follow me follow me on my blog https://beverleybateman.blogspot.com/ for how I'm doing, tips, hints and guest authors.