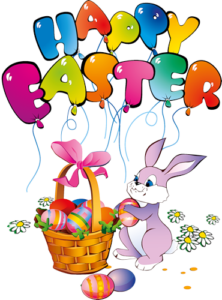 We're over a quarter of the way through 2019 already. I hope you're working your way through your goals for the year.
April is a busy month. It's Cancer Awareness month, plus Easter is this month.
I'm running behind, but that tends to be my usual pace.  We just got back from snow birding, to much colder weather than I left. Now I'm unpacking and trying to remember where everything goes, plus all the appointments and other things that need to be done.  I'm judging the Daphne contest and I need to plan Easter dinner. But I'm hoping I'll now get back into a routine. There's not all the activities and crafts, etc. that are available where we stay down south.  I should be able to focus and get lots of writing done.
I'm hoping to have another installment from my new book available to post here next month, but this month I thought I'd share an Easter Recipe.
Scalloped Potatoes  6 servings
Ingredients
2 tablespoons butter
3 tablespoons all-purpose flour
1 teaspoon salt
1/4 teaspoon pepper
1-1/2 cups whole milk  (or cream if you want to be decadent)
2 cups shredded cheddar cheese
1/2 cup Parmesan cheese
2 pounds red potatoes, peeled and thinly sliced (about 4 cups)
Directions
Preheat oven to 350°. In a small saucepan, melt butter; stir in flour, salt and pepper until smooth. Gradually whisk in milk (or cream). Bring to a boil, stirring constantly; cook and stir until thickened, about 2 minutes. Remove from heat; stir in cheddar cheese until melted.
Coat an 8-in. square baking dish with cooking spray. Place half of the potatoes in dish; layer with half of the cheese sauce. Repeat layers. Top with parmesan cheese.
Bake, covered, 50 minutes. Uncover; bake until bubbly and potatoes are tender, 10-15 minutes longer.
This month I'm doing: 
Spring Break Bookapal
ooza at https://www.nnlightsbookheaven.com/spring-break-bookapalooza
The Foundation Sara's Story will be featured on  April 22nd
Rafflecopter at http://www.rafflecopter.com/rafl/display/e226730a33/?
I'm doing a promo, from April 8 – April 30, on Red Carpet Fiction at
And don't forget to check out my blog and some great authors with their new books and other information.